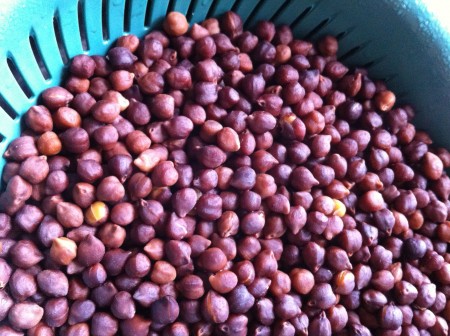 I had some dramas this week on the chickpea front. I decided to cook some from scratch rather than using tinned chickpeas. The recipe I was using said to soak the dried chickpeas in water overnight then boil for about an hour the next morning. Easy. Right? but no, they weren't cooked. They were hard and horrid and not lovely at all.
After a bit of chickpea chatter on Facebook and a bit of reading on the nets I decided to keep on boiling them until I was happy. They took 2.5hrs.
I made a baby hummus for Ada: pureed chickpeas, moistened with homemade chicken stock (that I had on hand because I was making soup) and a little squeeze of lemon. She liked it on toast and mixed with sweet potato mush:-)
One corner of the internet pointed me in the direction of Nigella Lawson's How to Eat – which I own. (How to Eat is a chatty, wide ranging cookbook with none of that sexy, fingerlickin' feasting you get with her tv shows).
Apparently there are a few tricks:
1) soak the chickpeas for longer – like 24hrs or more
2) make a paste of 1tsp bicarbonate soda, 1tsp flour and 1tsp salt and add this to the soaking water
3) you may have to cook for a long time – say 4hours
4) she says not to lift the lid for the first hour because it might cause the chickpeas to harden.
So, I threw my lot in with Nigella and soaked 3 cups of chickpeas of 22hours then cooked. I checked after and hour and they were DONE! I have to note that these were different chickpeas (the little brown variety called Desi) and my earlier batch was the big white ones. So unfortunately I'm not sure if Nigella's tips were the key or if it was the variety.
3 cups of dried chickpeas heh? Yes that expands to 7.5cups cooked. I portioned them up into ziploc bags and chucked them in the freezer. Except for some that I'll roast tomorrow. Roasted chickpeas with garlic salt and cumin = yummy snack.
And while I'm sharing, this recipe has been on high rotation in our house recently:
Roasted Vege and Chickpeas
Adapted from this recipe out of River Cottage Veg Everyday (my new, absolute favourite cookbook!)
750g Assorted Roast veges (leftovers usually)
Oil (we use olive oil)
A tin of Chickpeas – which I estimate to be about 1.5 cups of the home cooked peas, maybe a little less?
1/2 a lemon
Salt and pepper
2 garlic cloves, sliced
Fresh coriander roughly chopped
~Heat the oven to 200degC
~Put the oil into a non stick roasting pan and put into the oven for 10minutes until oil is really hot (I'm not sure we need to do this since the veges are pre roasted… but we do)
~Meanwhile, cut the roast veges into bite sized pieces,
~Carefully toss the veges and chickpeas in hot pan
~Pop into the oven for 10mins
~Take the vege/chickpeas out of the oven
~Stir through the garlic and juice of the lemon
~Sprinkle the coriander over the top
Serves 4
Looking at this now, I wonder if the whole lot could just be assembled in pot rather than turning on the oven…