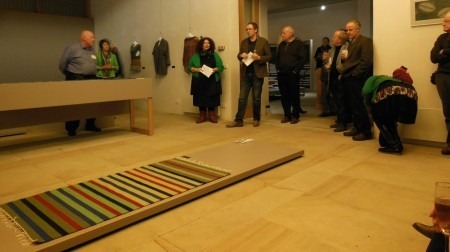 Photo by Valeri Pain
The rug was completed in time for the submission cut off for the Handweavers, Spinners and Dyer's Guild of Tasmania exhibition at Design Tasmania in Launceston.
I think the Design Tasmania staff and the Guild coordinator have done an excellent job in putting together an exhibition with a very diverse range of items from craft makers across the state.  The theme was Tasmanian Stories – Coastal and Inland.
I really love the way my rug has been installed – as it would be in use, but of course elevated just a bit.
I have yet to take a photograph of this rug that shows the colours correctly!  I'll have another try when I get it back in August.