I have been ignoring my loom – the rug was growing too slowly so I stopped weaving on it. Not exactly logical!
A decision to enter it into the guild exhibition and the realisation that I would surely miss the deadline has been a massive motivator. So every morning I install the kids in front of the TV for an hour and get a suprising amount of weaving done!
I'm nearly halfway there now but the tension has suddenly become uneven – the back of the loom is a sorry sight with all sorts of jerry-rigged weighting devices dangling, clamped and wedged in the offending areas. Gawd I hope it all works out!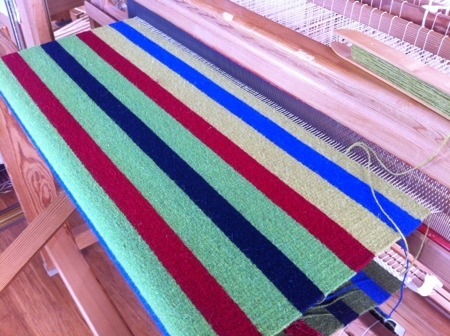 The greens are wrong in this phone photo, but you can at least get an idea of what I'm doing.