I have finished the rag rug 😀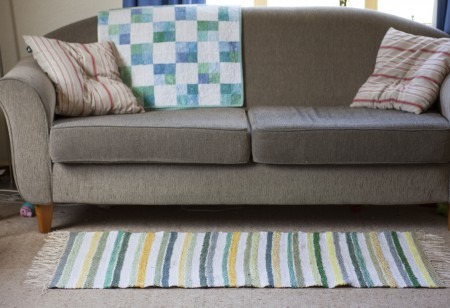 Starting Notes
I had planned to make a taupe and white rug but I wasn't happy with the way the taupe fabric frayed, even when cut with a rotary cutter.
So I decided to wing it with the strips I had already ripped for my last project.
The colours are a straight 2×2 twill and the white is plain weave. I got the original inspiration for this from an old Vav Magazine 😀
Final Notes:
Finished Dimensions:
135cm (53") long and 78cm (30 3/4") wide
EPI: 5epi in a 10dent reed
Warp: 6/2 cotton given to me by a weaving friend.
Weft: The white fabric was a sheet that was given to me by my partner's mum. The coloured fabric was hand dyed by me when I was into quilt making.
This rug was fiddly to weave with all the colour changes. However I'm pleased with the outcome.
My guide string for length must have been incorrect because I was expecting the rug to be 150cm! However, it works well in front of the couch and covers the bald carpet nicely ;-D
I note that off the loom the stripes in the centre of the rug are a bit bowed (more noticeable in photos than real life). I used a temple but I think I could have been a bit more generous with my weft, making a few 'hills' rather than a straight diagonal. Something to take away for the future.
Nice for dancing on: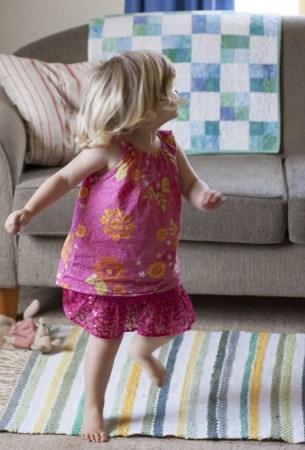 I have sourced some rug wool and I'm keen to try that out as weft for the remainder of this warp 😀  I can't wait to go up and tidy my workroom – I find that working with rags is very messy.