This was meant to be a stash busting project; busting all my stash of 8ply knitting wool that I probably wont knit.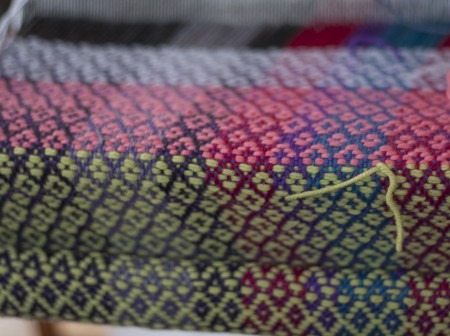 The problem was: Most of my stash was used up in the warp which was 3.5m long and 15inches wide (metric/imperial? meh!).  So I had to go out and buy more yarn, and then I had to go out and buy more yarn, and then I had to go out and buy yarn a third time! (I weighed the cloth once it was off the loom and it was 670g or 12.5 balls of yarn)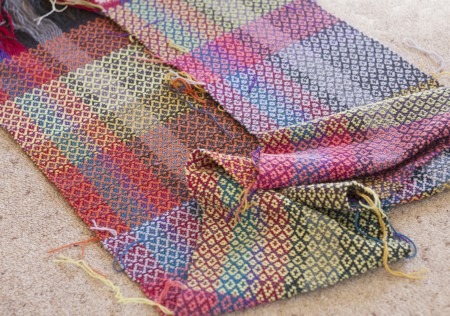 Once again I have chosen to use a rosepath draft and my intentions of using this as a sampler for different treadlings didn't eventuate.  I just liked what I had too much to fiddle with it.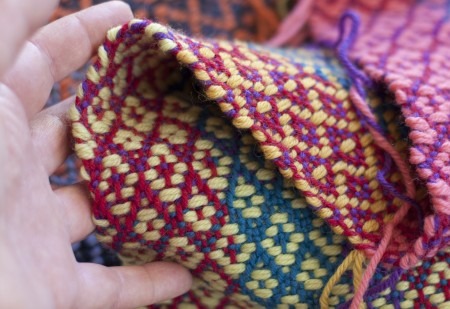 I wanted a stable fabric here so I alternated the diamond pattern rows (8ply yarn doubled) with one row of tabby (plain weave). If you squint at the above picture you might be able to see what I'm talking about.
The fabric is thick and was pretty stiff when taken off the loom.  I toyed with making a floor rug instead but was convinced by my weaving buddies to continue with my plans for a big floor pillow.  The fabric did soften a lot after being washed – and I knew it would from my experience with previous projects… but still, it can be hard to visualise when you have that raw fabric there in front of you.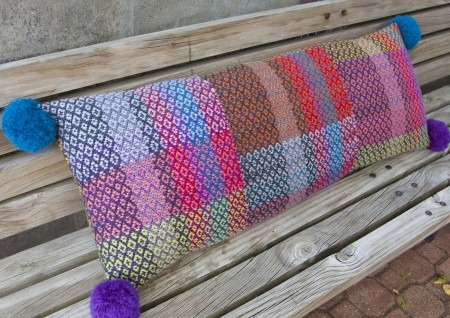 So here it is!  I seamed the three panels by hand using ladder/mattress stitch.  All other seams were done with my sewing machine which was a lot easier than I anticipated!  I did sew the zip in by hand though and It looks almost invisible (yay!!!).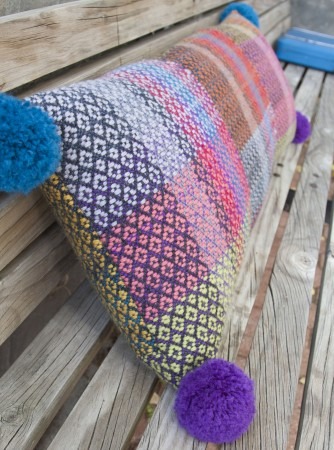 I'm also really happy with the pom pom corners 😀