North Indian Lime Pickles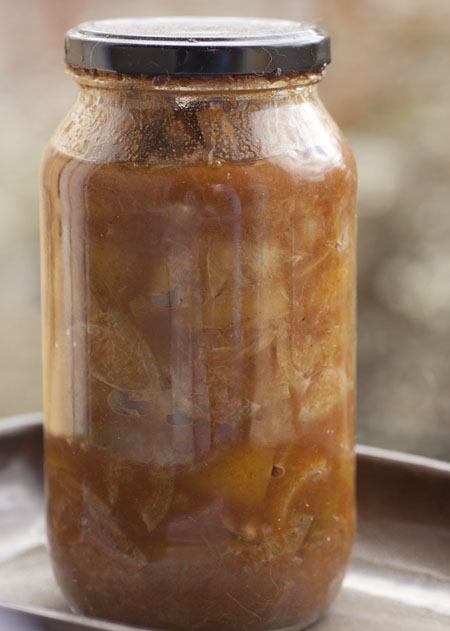 When I happened across a bag of limes at a local grocer for only a few bucks I knew exactly what I was going to do with them as I had just been reading some enticing fermented citrus pickle recipes over at Hungry Tigress.
These pickles are not vinegar based but are fermented on a sunny window sill for up to 8weeks.  I'm not an expert on fermentation but we have been enjoying home fermented sauerkraut for a while now so I was game to try these pickles out of curiosity more than anything else.
For the past two months, I would turn my jar every day nurturing and inspecting the contents with great anticipation.  We went away last week and I was dismayed when I realised I had forgotten to put my pickle in the fridge before we left. I expected to come back to a mould infested mess.  Instead, I found that fermentation had done its preserving magic and there was no spoilage – phew!
After 2 weeks on the sill I did a taste test and the pickle was bitter and firey, after 5 weeks on the sill the the cayenne had mellowed and the bitterness was reduced, so I knew we were headed in the right direction.
Today I can report that this pickle is magnificent!  Limey, spicy, salty and not bitter.  Tigress mentions that in India they would probably use more sugar and less spice and next time I might increase the sugar – just a bit.
I've transferred the pickle to three smaller jars and they now reside in the fridge – awaiting use on curries and whatever else I fancy.
Pickled Onions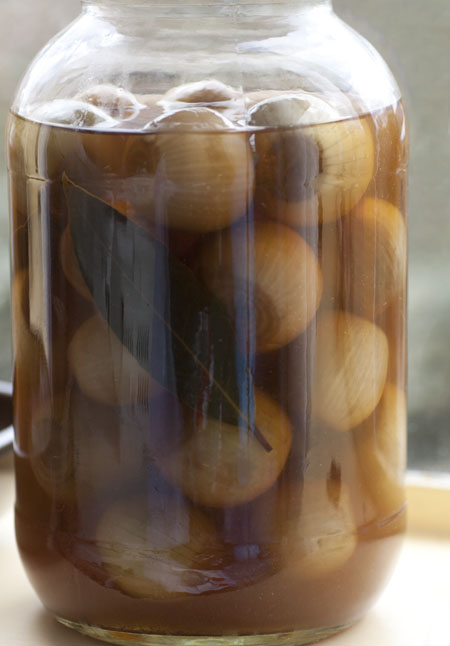 We love Blue Banner Pickled Onions and always seem to have a jar kicking around in the back of our fridge. A couple of months ago I made up a very large jar of my own picked onions and again after waiting two whole months to try them (this pickling business requires patience!) I was excited to find that they taste and look pretty much like our Blue Banners.
Sally Wise has a recipe for Pickled Onions up on her blog and I assume it's largely the same as the one in her book, A Year in a Bottle.
For this recipe and also for my sauerkraut I reuse the big 2 litre jars which dill pickles come in, I have quite a collection of them now since we do love gherkins in this household!
And Finally
Fermented Onions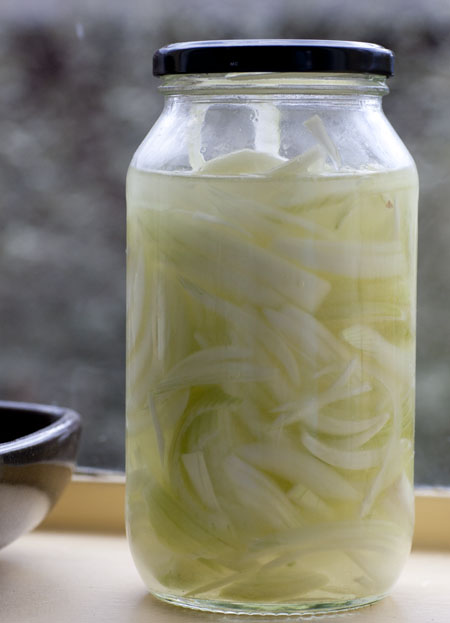 Finely slice onions, cover in brine, put in two tablespoons of whey (liquid that forms at the top of plain yoghurt) and leave out in the kitchen for 3 days to ferment.
Result:  This brew is pungent! The flavour is maybe a little more tart but a little less raw tasting than a raw onion.  Unfortunately I could taste onion on my breath for the rest of the day after eating this concoction.  Apparently they will keep indefinitely in the fridge and we'll probably use them for cooking over the next few weeks.   But I don't think I'll make fermented onions again.