My fear of sewing with knit fabrics is now a distant memory since I started sewing up maternity clothes and now a wardrobe  of little baby outfits.  I'm still a bit untidy with the finishing, but I think I'm getting better each time I try.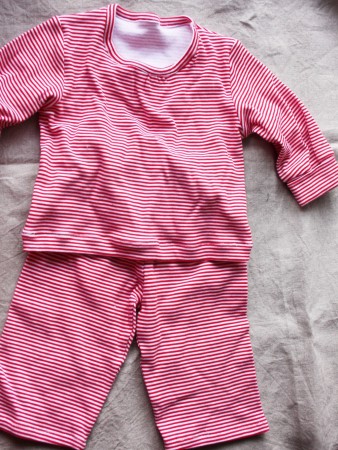 This first outfit was from an Ottobre magazine pattern. The pants were meant to have cuffs as well as the top, but these was the first garment I made and I think the cuffs seemed too hard so I omitted them out of fear LOL.  It all turned out a lot larger than I anticipated and I think we are looking at a size 0 or 1 here.
I had problems with the top, as the front is meant to have a cute gathered feature, but I couldn't get it gathered evenly using clear elastic tape as instructed. It's skewed but I don't think the baby will care 🙂
I don't have any baby sized patterns smaller than the above outfit, so I decided to try tracing a pattern off some smaller clothing. I think it worked brilliantly 🙂 The fabric is from Spotlight and I still have heaps left!


The only tricky thing with the tracing was getting the shape of the sleeve cap right. In the end I drew it out freehand and it worked very nicely. A fluke maybe?
This outfit was the same traced off pattern however the fabric is sourced from a top I bought at a local op-shop 🙂 it looked pretty much unused and it's so soft and perfect for baby items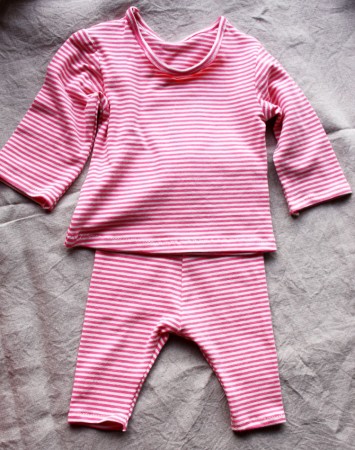 This last one I'm posting is something I'm really proud of because I used one of my old jumpers that I'd accidentally shrunk up a bit. It's a super soft, finely knitted merino from David Jones. I used the traced off patterns from above and modified them to 1) be a cardigan with cotton bias binding and 2) make use of the jumper sleeves for the leggings!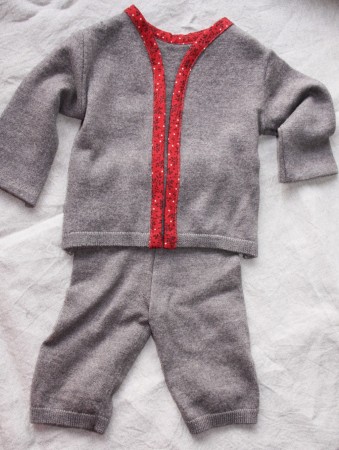 Being pregnant all winter has fooled me into thinking baby will need to be kitted out in woolies… but in fact we are having a spring/summer baby! I'm taking comfort in the fact that it IS Tasmania after all so a cold snap is a real possibility at any moment!