In a brief moment between winter ailments (cough cough, sniff sniff) this weekend we went on a bushwalk / fossil hunt / mushroom spotting adventure.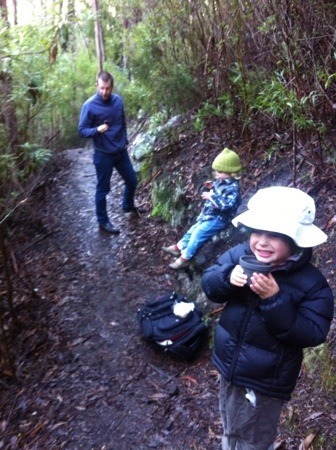 I regularly walk this track on the lower slopes of Mt Wellington. It leads up to New Town Falls and it takes me about 1.5hrs there and back or 2 hrs if I take a circuit returning by various fire trails. I'll take this over going to the gym any day.
Last time I was zooming up the hill I noticed that someone had placed a small rock on top of a post and, in the millisecond I glanced at it, I realised it was a fossil of a shell! So I looked down onto the track, picked up a blocky shaped rock and it was a fossil too!
So I had to take the kids for a look – especially since we now have the pressing need to produce kindergarten show and tell on a weekly basis. Jasper did spot an impressive specimen and is now all set for school this week.
However, the biggest interest for everyone on this walk (apart from the hot milo in the thermos) was the enormous number and variety of fungi for us to find next to the track. I have a copy of a field guide to Tasmanian Fungi so we could even look some of them up when we got home.
My next aim is to walk all the way to New Town Falls with Jasper. I think he is ready 🙂