Some 'finished' photos: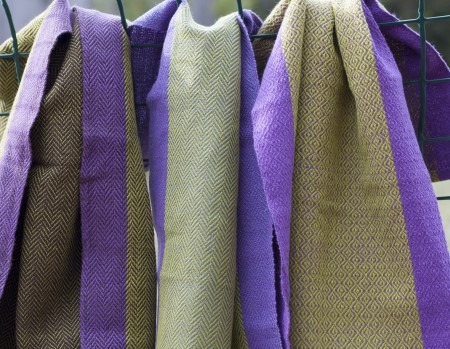 I used a draft called 8 Thread Herringbone from A Handweaver's Pattern Book by Marguerite P. Davison.  I used this draft on the little twill tape I made a few months ago and decided to revisit it on my floor loom… with interesting consequences:
Cloth 1, 2 and 3 – left to right in the group photo:
Cloth 1)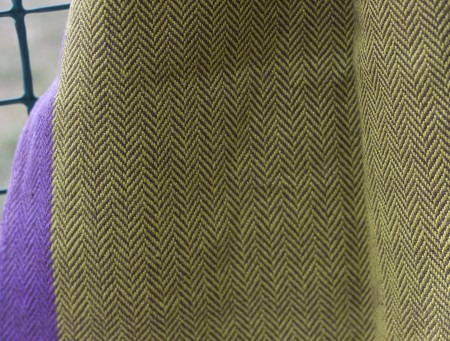 The weft is a dark brown cottolin. In the first cloth I followed the tie up and treadling as shown in Davison. It uses 8 treadles tied up as follows:
4,1
1
1,2
2
2,3
3
3,4
4
My first issue was that I couldn't see treadling errors on the face of the cloth. Those single shaft treadles meant the weft nestled in really snuggly with it's neighbour. I was feeling pretty unhappy about this and mentioned in the warped weavers forum on Ravelry. Bonnie Inouye very kindly shared some of her thoughts about this tie up (ie it's strange) and suggested I try some different tie ups.
(While I'm talking about this fabric I'll also note that it has a very heavy hand and is too firm to use as a tea towel. But I think it will sew up nicely into a pair of oven mitts)
Cloth 3)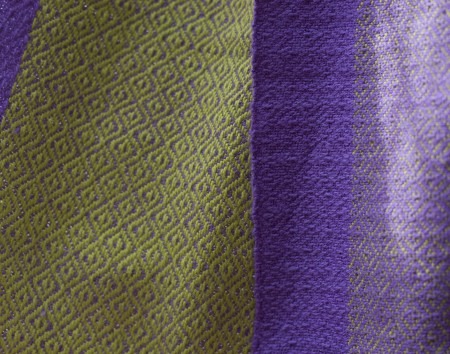 Weft is purple cottolin. I untied treadles 1,3,5,7 and had a very happy weaving experience. I treadled a diamond pattern in a 1/3 twill producing a cloth with a predominantly green face and purple back. I love this cloth, it is soft and cushy and will make a delightful teatowel.
Cloth 2)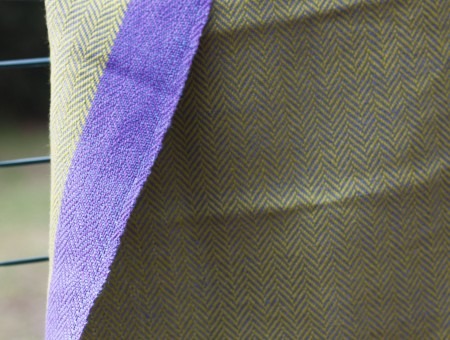 I untied treadles 2,4,6,8 and reinstated 1,3,5,7. This produced a 2/2 twill that I treadled as a straight herringbone. The weft is a blue swedish linen. The hand is thinner and 'floppier' and has a pleasant sheen after I gave it a 'very hard press'.
Not pictured here (but fairly prominent in my last post) is a sample I wove at the end of the warp using 5/2 mercerised cotton in ORANGE. It is a gorgeous bit of cloth and I wish I'd woven a whole towel with it! I'll be going for the purple/orange combo again very soon – stay tuned!